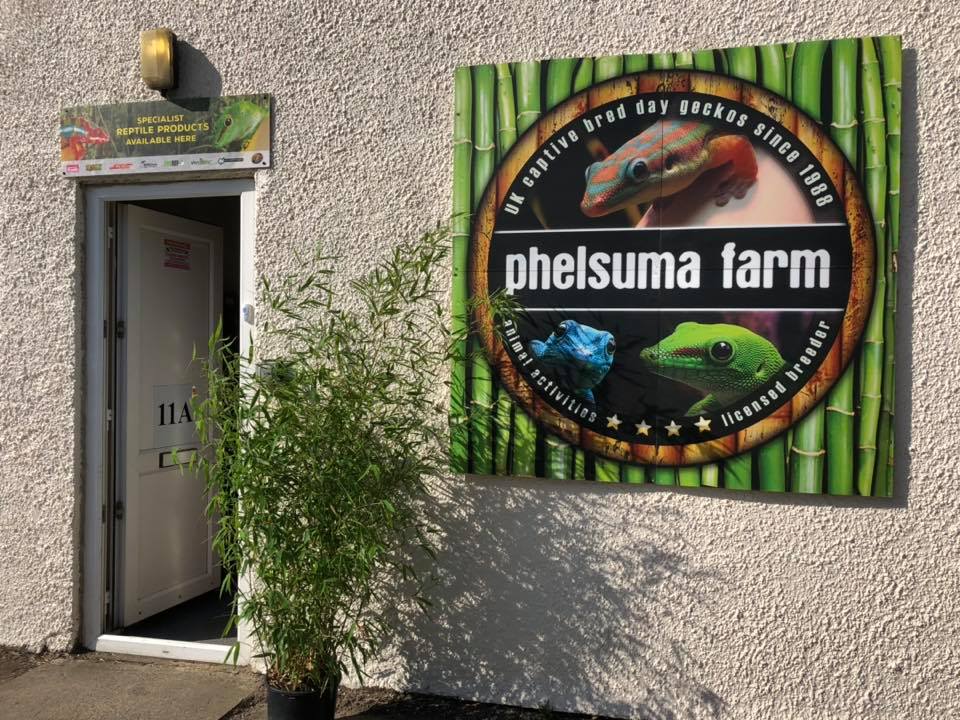 We stock all your essential supplies for your geckos, as well as an ever expanding range of reptile products for other species, and all the heavy and large items that we currently only sell in store such as vivariums and big bags of substrates.
Phelsuma Farm is a day gecko breeding centre, not your average reptile shop. So please be aware that not all the animals that can be viewed here are available for sale. Please check our updated available lists for information about which animals we have available for sale. Those advertised on our website are the same animals that we will have available in store.
🦎 Phelsuma Farm offer a massive selection of essential reptile supplies
💡 Basking lamps, UVB reptile lighting kits, LED lighting, ceramic heat lamps, guards, reflectors, heat mats, thermostats, sensors, brackets, canopies and more.
🐜 Livefoods, fresh and the highest quality
🐛 Massive range including locusts, silent crickets, mealworms, super worms, wax worms, fruit flies, dubia roaches, grubs and more.
🍉 Pangea and Repashy complete gecko diets.
🐢 Dry foods available for lizards, tortoises.
🐁🐀 Frozen foods available for 🐍 reptiles and exotic animals.
🌿 Fresh live plants for tropical and 🌵arid habitats.
💚 Bioactive supplies: isopods, springtails, tropical woodlice, sphagnum moss, bioactive substrate, drainage medium, leaf litter, natural branches, vines and hides.
🦎 Specialising in breeding day geckos while also offering a massive range of other🦎 lizards, bearded dragons, chameleons and geckos, 🐍 snakes, 🐸 tree frogs, dart frogs and toads, 🐢 tortoises, 🕷tarantulas, 🦂 scorpions, millipedes, stick insects and 🐌 other creepy crawlies with complete setups.
😃 Helpful and friendly advice
📦 Shop online for home delivery
🚚 Royal Mail and Hermes delivery options
🚛 Licensed animal courier available for animals through England, Wales and Scotland
🚗 We also offer home delivery around Taunton, Ilminster, Chard, Crewkerne, Bridgwater, Yeovil, Langport, Street, Glastonbury and surrounding areas of Somerset for live foods, frozen foods and essential supplies.
💬 Message us for orders and enquiries
Phelsuma Farm:
📧 info@daygeckos.co.uk
🌐 www.daygeckos.co.uk
Phelsuma Farm
11A Ilton Business Park
Somerset
TA19 9DU
Free and easy parking outside the shop
💷 Cash 💳 debit/credit card accepted in store
PayPal accepted online
💯 Tried and trusted
Opening Times:
| | |
| --- | --- |
| Mondays | 12:00pm to 7:00pm |
| Tuesdays | 12:00pm to 7:00pm |
| Wednesdays | Closed |
| Thursdays | 12:00pm to 7:00pm |
| Fridays | 12:00pm to 7:00pm |
| Saturdays | 10:00am to 1:00pm |
| Sundays | Closed |
Please be advised to check these opening times before visiting us as they are subject to change.
Where to find us
Unit 11A, Ilton Business Park, Ilton, Somerset, TA19 9DU.
We are approximately 5 minutes drive from the A303 Ilminster roundabout and approximately 15 minutes from M5 junction 25 Taunton.
Ilton Business Park is sign posted from the A358 Taunton to Ilminster road.
So if you fancy a stop off on your way back from a visit to the south west, or you want to get some expert advice on keeping and breeding day geckos, why not pop in and see us and pick up all your essential supplies.
Free parking is available as well as WC.
We regret that wheelchair users will not be able to access the upstairs breeding room, although a small selection of animals are on display in the shop downstairs.
All major debit and credit cards are accepted in store.
We look forward to seeing you soon.