⚠️ Please note that we are open by appointment only during the current national lockdown. Please email us or message us on our Facebook page to make an appointment. ⚠️
Phelsuma Farm is a specialist reptile shop and reptile breeding centre, specialising in breeding Day Geckos since 1988.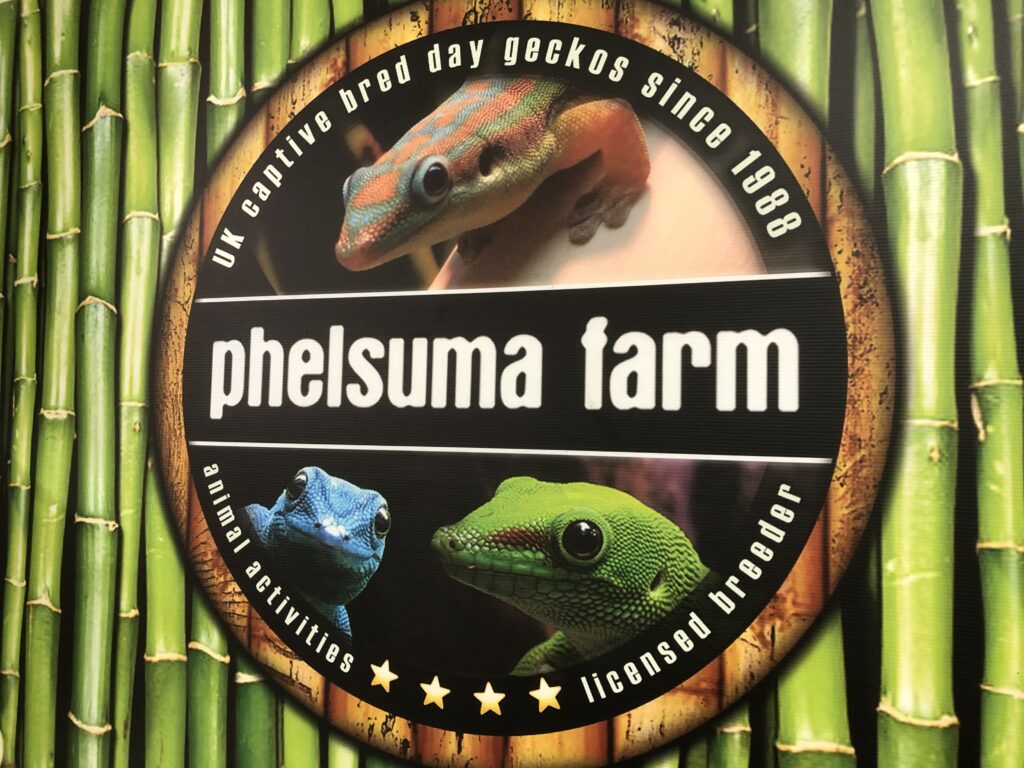 We are located between Taunton and Ilminster in Somerset, UK. Offering reptiles and exotic animal supplies, expert and friendly advice on our amazing range of reptiles, amphibians and invertebrates for sale including day geckos, leopard geckos, crested geckos, chameleons, bearded dragons, corn snakes, pythons, boas, frogs, toads, scorpions, tarantulas, tortoises, turtles and more… many of which we breed ourselves at Phelsuma Farm.
We stock live foods, frozen foods, bio-active supplies, pet supplies, tropical plants, heating systems, lighting systems, misting systems, terrariums, vivariums… everything you need to keep reptiles and exotic animals.
November 2020 Update:

✅ Phelsuma Farm will remain OPEN ✅ at our normal opening times
🦎 We would like to reassure you that we will be operating business as usual. We have updated our safety measures in store. We will also be able to offer live foods drop shipping and local delivery of essential reptile food and supplies.
Shop opening hours:
Mondays: 12-7pm
Tuesdays: 12-7pm
Wednesdays: closed
Thursdays: 12-7pm
Fridays: 12-7pm
Saturdays after 12pm by appointment.
✅ We will remain open during the upcoming lockdown in England because we have animals to keep happy and healthy and we supply essential food and equipment to our ever growing loyal customer base and fellow reptile keepers and breeders
Please help us when visiting:
⚠️ Please limit your group to 2-3 people
⚠️ We are limiting the total number of people in the shop to 5 persons max (up to 2 staff and up to 3 visitors)
⚠️ Please wear your face mask in store (children are exempt, adults who are exempt from wearing a face mask we can offer you a service at the door
⚠️ No visitor handling of the animals
⚠️ If possible, try to send us a message to let us know when you plan to visit us during week day opening times. You don't need to make an appointment but it helps us to plan the day safely if we know to expect you. This will help us give you the best possible experience and advice. Appointments are only necessary on Saturdays and Sundays.
🦎 Phelsuma Farm offer a massive selection of essential reptile supplies
💡 Basking lamps, UVB reptile lighting kits, LED lighting, ceramic heat lamps, guards, reflectors, heat mats, thermostats, sensors, brackets, canopies and more.
🐜 Livefoods, fresh and the highest quality
🐛 Massive range including locusts, silent crickets, mealworms, super worms, wax worms, fruit flies, dubia roaches, grubs and more.
Pangea, Repashy complete diets available.
Dry foods available for lizards, tortoises. Frozen foods available for 🐍 reptiles and exotic animals.
🌿 Fresh live plants for tropical and arid habitats
💚 Bioactive supplies: isopods, springtails, tropical woodlice, BioRevitaliser, sphagnum moss, bioactive substrate, drainage medium
🦎 Specialising in breeding day geckos while also offering a massive range of other🦎 lizards, bearded dragons, chameleons and geckos, 🐍 snakes, 🐸 tree frogs, dart frogs and toads, 🐢 tortoises, 🕷tarantulas, 🦂 scorpions, millipedes, stick insects and 🐌 other creepy crawlies with complete setups.
😃 Helpful and friendly advice
📦 Shop online for home delivery
🚚 Royal Mail and Hermes delivery options
🚛 Licensed animal courier available for animals through England, Wales and Scotland
🚗 We also offer home delivery around Taunton, Ilminster, Chard, Crewkerne, Bridgwater, Yeovil and Somerset for live foods, frozen foods and essential supplies.
💬 Message us for orders and enquiries
Phelsuma Farm:
📧 info@daygeckos.co.uk
🌐 www.daygeckos.co.uk
Phelsuma Farm
11A Ilton Business Park
Somerset
TA19 9DU
Free and easy parking outside the shop
💷 Cash 💳 debit/credit card accepted in store
PayPal accepted online
Phelsuma Farm stock the best in reptile and exotic animal supplies from:
Arcadia, ExoTerra, F10, Habistat, Lucky Reptile, Microclimate, Monkfield, Pangea, ProRep, Repashy, Reptile Systems, Vetark, Zoo Med.
💯 Tried and trusted
Take care. We hope to see or help you soon.
Simon & the team @ Phelsuma Farm 🦎
We look forward to seeing you soon.
The upstairs animal room is nearly ready but we need another week to finish the changes. We are hoping to reopen upstairs on Monday 9th November. We will make an announcement when upstairs is officially reopened. Thank you for your patience.
Located at Unit 11A on Ilton Business Park, between Taunton and Ilminster in Somerset. Just off the A303. Free and easy parking outside the shop.
Phelsuma Farm, Unit 11A, Ilton Business Park, Somerset, TA19 9DU
---
NEW REPTILE FOODS

Massive range of complete gecko diets, reptile foods, tasty treats, insect foods, brand new fresh products, everything you need for your happy reptiles under one roof.
Go to the SHOP section to browse more.

Fresh live plants & decor arriving every week. Available in store and for delivery.